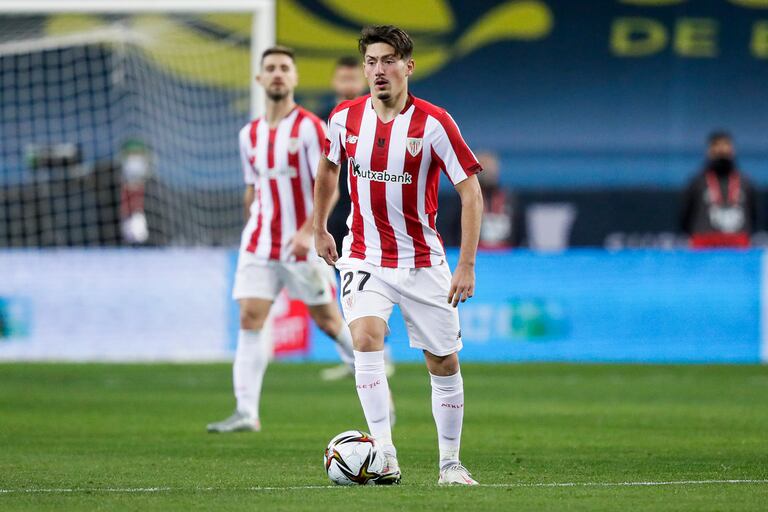 Almost 12 months ago, on February 16, 2020, when the football stadiums were full of public, Unai Vencedor (Bilbao, 20 years old), debuted in San Mamés against Osasuna. He started, but he had the bitter aftertaste of a defeat at home, before his people. It could have been better, because he dared to launch a free kick on the edge of the area that crashed into the post. Despite everything, he fulfilled the dream of any Bilbao kid, that of playing for Athletic. "Incredibly happy to have made my dream come true, a shame the result," he wrote on social networks after that crash.
Later he returned to Bilbao Athletic, played three more games until the competition was suspended and he no longer returned to the first team with the resumption of the professional leagues. When Gaizka Garitano, then his coach, made the list of summoned for the preseason, Vencedor, who had arrived three years before to the rojiblanco youth from Santutxu, the team from one of the most popular neighborhoods of Bilbao, was included, although the club studied its assignment. The midfielder decided to take a risk and look for an opportunity at home. "In summer I spoke with the club and wanted to stay, wait until the winter market. My idea was to play as much as possible here ".
The door to the market had not yet been opened when on November 20, a week after his 20th birthday, he returned, almost by surprise, to the starting lineup. He had played a few minutes in a couple of games, but Garitano, pressured by criticism, put together a team, with Unai at the center, that beat Betis (4-0). The comments appealed to the freshness he had brought to a midfield that looked caked. With beginner mistakes still, his game convinced from the beginning.
Since then, Vencedor has started 11 LaLiga games, both in the Super Cup against Real Madrid and Barcelona, ​​and in the Cup against Ibiza.
And it is taking over the position. "The coach spoke to me and explained what he wanted from me. He asked me to play calmly, forward, with diagonal passes ", he pointed out on Tuesday, after signing the renewal of his contract, with its corresponding improvement, until 2025, with a termination clause that begins at 40 million euros and increases to 50 of its last season initialed. "I have managed to arrive and renew, and I hope to continue here for many years. Everything has happened pretty fast. I try to adapt as best as possible to it. Hopefully everything continues like this ", confesses the footballer, who, except for surprise, will start in the Cup semifinal against Levante.
His cheerful, offensive game, but also rigorously in the rear, has convinced Marcelino, who knows that the Santutxu footballer, who started at the Otxarkoaga football school, still has a lot to learn. "He is doing well, he is young, he has his first appearance in Primera this season. Being young and with that first experience it is logical that he goes through ups and downs of performance ", says the coach. "It takes a little more time. We are very happy, he has a very good performance, at a collective level the team is also doing well and that means an increase in individual improvement ".
Vencedor is the last of Lezama's cubs to make it to the first team. Now, those who know them say, wait for Zarraga, his line mate at the subsidiary, to also make the leap.