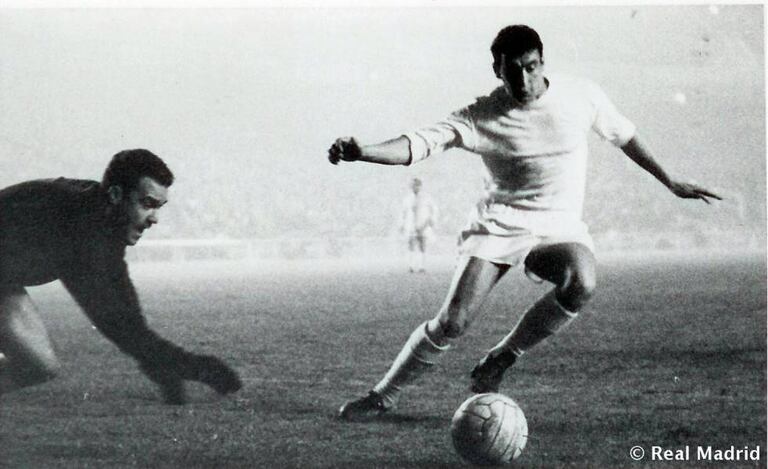 Enrique Pérez Díaz, Pachín by family tradition, born in Torrelavega, Cantabria (12-28-1938), died this Wednesday in Madrid at the age of 82. The figure of a true defender faded, one of those from before, of those who, already retired, was good enough to vindicate the virtues that a good defender of his time had to have and that are now in disuse. "Now the defenders are little sisters of charity," he used to say.
"The defenders of then, those of my time, we had to make ourselves respected. I admit, although it is not right to say it, that I was very fast, but I found myself even faster forwards and there were times when the only way to take the ball away was with an intimidating kick, but without bad intention … "
When Alfredo di Stéfano listened to Pachín tell his little defense battles hard, tough and without compassion at the venue that the Real Madrid Veterans Association has in the Santiago Bernabéu stadium, he always reminded him that thanks to him he had signed for Real Madrid in the 1959-1960 season. "If I recommended your signing to Don Santiago Bernabéu, it was so that the following year, when we went to play in Pamplona, ​​you wouldn't give me the kicks you gave me the day you marked me."
Sarcastic half truth. The great Alfredo saw in that young Cantabrian a defender of the law. Of those who were not intimidated, of those who always took a step forward and argued with his countryman Marquitos (Marcos Llorente's grandfather), himself from Santander, about questions of provincial hegemony, virility on the lawn and who imposed territory with more vehemence before the forward on duty.
Pachín defended himself, of course, when Di Stéfano spoke, but always with respect. I revered him. "I scored him in the second half of that Osasuna-Real Madrid in 1959. I was 20 years old. And the truth is that I didn't let him touch the ball. Also, I didn't kick him. I think it was key for my signing for Real Madrid. The first half I scored, rather, I didn't score Puskas and threw in the towel at half-time. In the intermission, the coach, Sabino Barinaga, told me to follow Di Stéfano. Its characteristics were better for me. At the end of the game Alfredo said to me: 'Hey kid, would you like to play for Madrid?' I went home thinking about it. And after a few months I signed. Later, as a partner, I realized that he recommended players to the president. The ones that Alfredo saw were valuable, he always wanted by his side ".
He always considered himself a left back, but he played whatever they put on him. Man was especially motivated by markings. In Real Madrid he made record of honors and career. Seven leagues, two European Cups, one Intercontinental and one Cup. Eight international times, he played the 62nd World Cup in Chile and scored Amarildo who, with Pelé injured, became the great Brazilian star. Two goals scored in that match against Spain. "And that almost did not let him touch the ball," emphasized the Torrelaveguense, the city where he took his first steps in the local team, the Real Sociedad Gimnástica. Then he enlisted at Burgos before signing for Osasuna.
Retired as a professional at Betis (68-69) he wanted to continue linked to football as a coach. He did not get to train in the First Division, but he saw fit to direct Johan Cruyff himself in Levante in the 80-81 season in Second. "There were four games because they fired me a month after he arrived. But not everyone can say that they trained Johan Cruyff ".